SPECIAL DRAWER RACK FOR THE PANASONIC 845 + 725 LITER ULT FREEZER - VIP SERIES
These freezers have been designed for maximum storage. The standard racks are six boxes tall by four boxes deep. It is extremely difficult to remove them from the freezer and move around the laboratory due to their size and wieght. We recommend using a drawer rack for this freezer as it is more convenient to remove and handle.
These drawers are top loaded and hold ONLY cardboard boxes. This is a requirement due to the tight spacing available with this freezer design. The photo on the right shows the difference in drawer styles.
The dimensions of this rack are: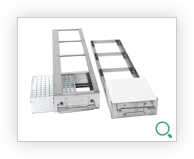 22 -1/8" long x 5 ½" wide and 12 -13/16" tall

If you purchase 24 or 28 racks to fill a freezer, we will include FREE freight within the 48 states.